Welcome to St. Joseph Church!
Charity & Stewardship Appeal 2022
We're getting close to our $350,000 goal! There are multiple ways to donate. Visit this PAGE for details.


A Meditation for the Presentation of the Blessed Mother From a Sermon by St. Augustine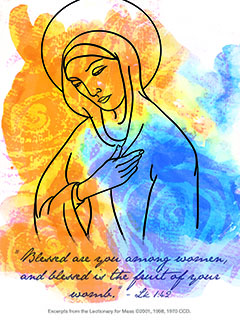 "Stretching out his hand over his disciples, the Lord Christ declared: Here are my mother and my brothers; anyone who does the will of my Father who sent me is my brother and my sister and my mother. I would urge you to ponder these words. Did the Virgin Mary, who believed by faith and conceived by faith, who was the chosen one from whom our Savior was born among men, who was created by Christ before Christ was created in her - did she not do the will of the Father? Indeed the blessed Mary certainly did the Father's will, and so it was for her a greater thing to have been Christ's disciple than to have been his mother, and she was more blessed in her discipleship than in her motherhood. Hers was the happiness of first bearing in her womb him whom she would obey as her master."

Read more of this sermon here: https://www.discerninghearts.com/catholic-podcasts/presentation-virgin-mary-st-augustine-office-readings/

Excerpts from the English translation of The Liturgy of the Hours (Four Volumes) © 1974, International Commission on English in the Liturgy Corporation. All rights reserved.